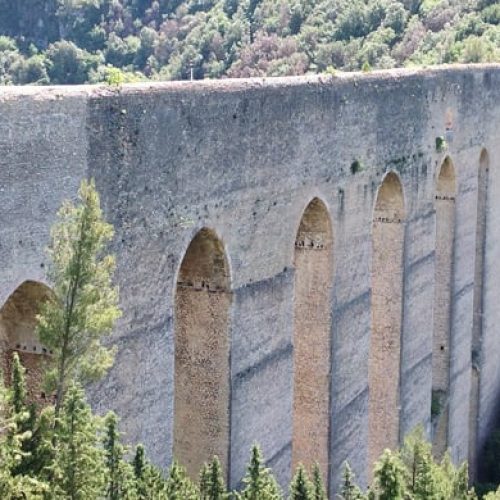 Spoleto is a place of key importance for anyone interested to get to know better Umbria and its culture, tradition and history. Spoleto is also an incredibly vibrant cultural centre: the town hosts the internationally renowned Festival dei Due Mondi and a wide range of other cultural and artistic events.
Spoleto was first an important town to the original Umbri tribes, who built walls around their settlement, it then became a Roman colony and, finally, was brought under the authority of the Papal State by Cardinal Albornoz. The key historical importance of Spoleto appears in the abundance of places of cultural and historical interest and in the spectacle of intact and authentic architectural beauty that the city offers.
Points of interest include the Arco di Druso e Germanico (Arch of Druso and Germanico), the beautiful Teatro Romano (Roman Theatre), still used as an open-air theatre during the Festival dei Due Mondi, and the Basilica di San Salvatore. The most famous landmark of Spoleto is, however, the Duomo (Chatedral): the Duomo, built in the twelfth century, hosts a rich and famous collection of paintings and frescos. Taking a walk in the heart of Spoleto, visitors can also admire the wonderful building of the Palazzo Comunale (Civic Palace) and, not far from the city centre, the church of San Pietro. Ouside of Spoleto's walls, other points of interest include the Rocca di Albornoz (Albornoz Fortress) and the Ponte delle Torri (Towers Bridge), a striking, imposing bridge measuring eighty meters in high and well over two hundred meters in length.
Located at the head of a large, broad and lush valley, surrounded by mountains and deep silence, Spoleto is a city of rare beauty where time seems to have stopped.